CCCA (Parent Teacher Association)
Welcome to the Chalfonts Community College Association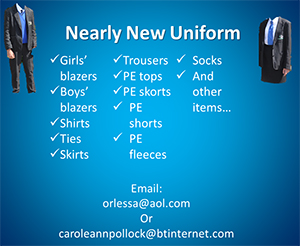 The Chalfonts Community College has an active parent teacher association which fund raise throughout the year. Our aim is twofold: firstly, to raise funds to provide additional facilities or equipment for the students beyond those which can be funded by the college and secondly, we hope to provide an opportunity for parents and students to get together at events and have some fun.
We really do appreciate your support at our events and plan to continue the tradition during this academic year.
If you would like to join us or help out at our events throughout the year you would be most welcome. Regular meetings are held at the college.
Contact Details
Treasurer: Ed Matthews
Secretary/Marketing: Claire Hook
Food, Drink & Licensing : Sue Littman
Teas and Coffees: Sharon Williams & Caroline Parry
Volunteer Coordinator: Caroline Parry Caroline.Parry@parexel.com
Pre Loved Uniform Sales: Orlessa Altass, Carole Pollock
1800 Club
July - ticket 70 - Sharon W2illiams £70
June - ticket 41 - Davinder Sarai £50
May - ticket 42 - Catherine Smith £50
April - ticket 35 - Jagbinder Salh £50
March - ticket number 10 - Sue Cheshire £50
February - ticket 6 - Abi Kinsey £50
January - ticket 77 - Karen Fowkes £50
December - ticket 69 Sharon Williams £150
November - ticket 99 - Kim Hughes £50
October - ticket 63 - Christina Anderson £50
September - ticket 18 - Orlessa Altass £50